Setting up your Path to the Cloud
Über Bonede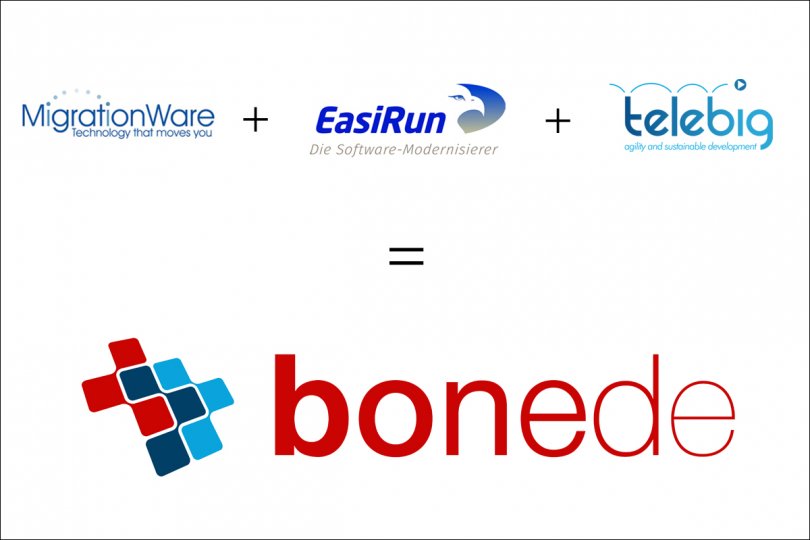 Dieser Artikel ist nur auf Englisch erhältlich !
EasiRun, MigrationWare TELEBIG: The Members of the Bonede Global Alliance.
The
Bonede Alliance
, focussed on managing Information Technology change, is an international alliance of modernization experts. We are specialized in providing technology and architecture based services at all levels and during all phases of IT lifecycles, and their ongoing modernization.
The Bonede Alliance assists organisations in managing the perpetual changes of increasing complexity confronting IT divisions, who at the same time have to address reducing technology and application backlogs. These change processes, typically a combination of IT and business issues have profound effects and consequences, primarily for IT organisations. Bonede recognizes and understands the effects and risks of long term perpetual change processes.
Bonede`s activities include analysing, proposing, defining and realizing a clear path to the future, based on long-range vision and planning, security and independence, and ensuring the avoidance of the typical risks related to forced short-term or spontaneous decisions.
Retaining an equal focus on platforms, technologies, applications and individuals ensures that organizations can combine these equally important parts of the overall puzzle fit in one comprehensive solution. With our successfully, repeatedly implemented partnership approach, the continuous, iterative task of moving through the ongoing phases of IT transition becomes a manageable, predictable, low-risk task.
Bonede`s expertise, services, solutions and tools are suited to comprehensive range of platforms, including Mainframe, Client/Server, LINUX, Windows, all derivates of UNIX and all software running on these platforms.
MigrationWare
MigrationWare is a solutions company which ensures the preservation and protection of the life expectancy of business applications by transforming and modernising legacy code and architecture, while retaining the functionality provided to the business. MigrationWare has highly specialised skills in migrating legacy 2GL, 3GL and 4GL systems to Mainframe, Linux, Unix and Microsoft platforms.
www.migrationware.com
EasiRun
EasiRun is a German-based product, tools and solutions provider for software modernisation and software development modernisation of legacy applications with an emphasis on COBOL. Since 1994, EasiRun has specialised in application analysis, code conversion and transformation and the integration of legacy COBOL applications into Java and .NET environments.
www.easirun.de
TELEBIG
TELEBIG occupies an acknowledged position in the ecosystem of "Solutionneurs de modernization". It provides various integrated solutions under the umbrella Migration+ that covers Consulting, Migration (from Re-hosting to Re-engineering), Modernization, completed by high level combined Legacy Mainframe, Oracle Forms and other 4GL environments together with today's Java and .NET expertise.
www.telebig.com